GUARANTEED SYMMETRIC DOWNLOAD AND UPLOAD SPEEDS WITH A LEASED LINE
A must for businesses who demand both high availability and high capacity, achieved by providing up to 1Gbps connection with the option to converge data and voice onto one network. As more services move into the cloud, so the need for fast, secure and reliable internet connectivity has become essential. 5G's leased line products provide highly reliable, secure and fast data connectivity.
Not sure if a leased line is available for your business? Call us on 01494 523 523 to speak to a sales consultant

PRIVATE CONNECTION
A leased line is exclusive to your business meaning you don't share your bandwidth, allowing you complete control and unrivaled connectivity.

UNLIMITED INTERNET LINE
Uncapped and unlimited data, couple this with super-fast speeds and give your business the best internet connection available.

DEDICATED SERVICE
Our service level guarantee assures your leased line is a reliable source of data, with 99.5% service availability you can sleep well knowing you're in safe hands.

CONSISTENT SPEEDS
Your speed never drops, meaning that everything online which is critical to your business will stay online. Downtime is a thing of the past.

REDUCED COST
With fibre optic technology on the up, leased line prices are falling. London has experienced a 90% drop in prices for leased in the past 15 years, it's time you took advantage of this.

CHOOSE YOUR CONNECTION
No matter how big, small, complex or basic your company's requirements are, there is a range of leased line options available for your picking.
GET UP TO £2,500 GRANT FOR SUPER-FAST BROADBAND
Are you looking to upgrade your connection speed this year, but worried about connection costs?
The Government's Gigabit Voucher Scheme is back! As a registered supplier, we're offering eligible businesses Broadband and Ethernet packages which offer up to £2,500 towards the costs of upgrading their connectivity.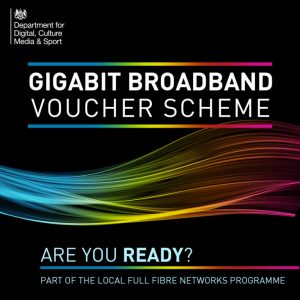 BESPOKE SOLUTION FOR EACH BUSINESS
Here at 5G Communications we create bespoke lease line solutions for companies. This means that your connection is tailored to the unique needs of your business, providing a much better level of service that is adapted to the way that your company works.
Although a bespoke leased line may cost slightly more than a standard lease line, you are paying for a high quality connection that won't let you down.
"Sean, as always he has gone far and beyond, I would be more than happy to speak to Sean again about any future faults, it's got to the point we might as well be friends."
"Tristan is the most helpful young man I have dealt with in a long, long time and he is an asset to the Company."
"5G are a fantastic company, from Sales to Tech Support but especially Sid in Engineering. Everyone works together and contacted me when they said they would."
"Just a quick note to say what a fantastic job John & Anthony did for us on site in Newcastle. They were superb! Perhaps they can do Coatbridge for us in February as it is another relocation!"
"Your engineer John has been brilliant today; thank you.  We are optimistic that the replaced hardware/software will make all the difference – phones are ringing frequently now."
"I would just like to say, your advice and support throughout has been very much appreciated by us all, but especially myself, so a very big thank you from me."
"I'm impressed how Richard Smith works, how professional he is and when he came to our site, he knew exactly what he was doing. We're due another site visit in 2 weeks and we would like to request that Richard comes back as he was so fantastic with us the first time!"
"John has been absolutely amazing; the staff in the store loved him and wanted to adopt him.
John is an asset to this company and you should do everything to keep him."
"I have recently taken over dealing with the Telecoms invoices and I've had a lot of issues with BT and Talk Talk. If it wasn't for that wee boy Jon, I would have pulled my hair out! He would keep me updated every step of the way, he went above and beyond and he was a wee gem."
"Please thank Nichole for all of her help, she is the best asset 5G have."
"The service from 5G is great and if there is a problem it is always resolved quickly. Sarah from accounts is very helpful and a credit to your company!"
Interested?
Call Us on
01494 523 523
to find out more